NPQs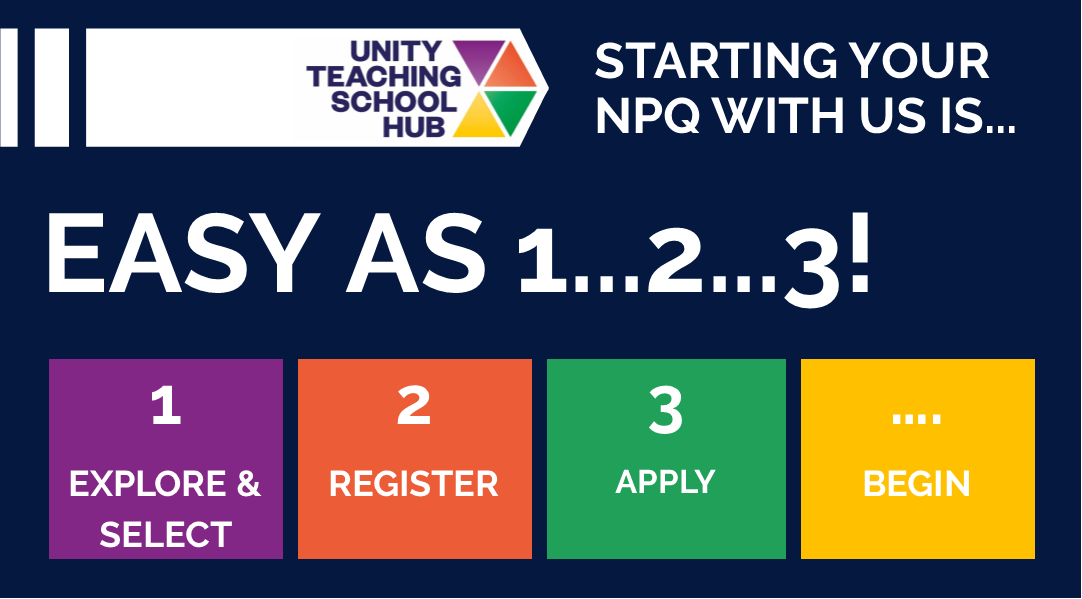 APPLICATIONS FOR 2023-24 ARE NOW OPEN!
OUR NPQS ARE DESIGNED AND DELIVERED IN PARTNERSHIP WITH THE TEACHER DEVELOPMENT TRUST
National Professional Qualifications (NPQs) are the most widely recognised qualifications in the education sector for current and aspiring leaders and are accredited by the Department for Education (DfE). NPQs are open to all teachers and leaders in schools in England and Wales. NPQs were reformed in 2021 and are now an exciting and prestigious suite of professional qualifications, significantly different to previous NPQs.
All NPQs are currently fully funded for teachers and leaders employed in state funded schools and organisations that offer 16-19 education.

---
Our Lead Providers & NPQs
Unity Teaching School Hub will be delivering the full suite of new and reformed National Professional Qualifications in partnership with our Lead Provider, Teacher Development Trust (TDT).
What is the relationship between the Lead Provider (TDT), the DfE and the Delivery Partner (Unity Teaching School Hub)?
The DfE
The DfE creates the framework, appoints the Lead Providers and is responsible for quality assurance of the providers and their monitoring and evaluation,

The Lead Provider
The Lead Provider ( Teacher Development Trust) builds on the DfE frameworks and designs each programme of study and its method of delivery and is responsible for assessment.
Lead Providers have been selected by the DfE to create programmes in line with the DfE's NPQ frameworks, although not every provider will necessarily offer every NPQ. Lead Providers have been chosen by a fair and open procurement process by the Department for Education. Delivery partners, including teaching school hubs, work with lead providers to deliver the training.
NPQ providers are subject to a quality assurance mechanism through Ofsted inspection to ensure the best support for schools and teachers.
The Lead Provider works with local experts, including Teaching School Hubs to deliver each programme of study locally.

The Delivery Partner
The delivery partner ( Unity Teaching School Hub) is the local expert that delivers the DfE and Lead Provider's programmes to teachers and leaders undertaking the NPQ(s).
Unity Teaching School Hub is one of 87 Teaching School Hubs that are school-led centres of excellence in professional development run by the country's best schools and trusts. Each Hub serves a designated area of the country, ensuring every school has easy access to support. The Hubs offer high-quality, evidence-based training, and will work with Lead Providers to deliver the NPQs.
Unity Teaching School Hub's team of local experts are passionate about professional learning and have a strong understanding of locality contexts. Unity Teaching School Hub benefits from being part of Unity Schools Partnership and Unity Research School.
---
Assessment in the new NPQs
Assessment of NPQs has been refreshed to reduce the workload burden on teachers, while still providing an opportunity to apply knowledge.

To pass an NPQ, teachers need to engage with at least 90% of the course and complete a final assessment. The final assessment takes the form of a case study representing a likely situation to be faced by a teacher at the relevant NPQ qualification level or role. It will test teachers on a variety of 'learn that' and 'learn how to' statements from within the relevant NPQ Content Framework. Teachers will be allowed an eight-day calendar window to provide a written response to the case study in an 'open book' setting.
Funding available for eligible participants
Teachers and leaders employed in state funded schools and state funded organisations that offer 16-19 places in England are currently able to access a fully funded NPQ.
Staff working for PVI (Private, Voluntary and Independent) settings can apply for the NPQ Early Years Leadership (NPQEYL).
Details of scholarship funding available from the Department for Education can be found here.
Targeted Support Fund
For each teacher and leader employed who takes an NPQ in the 2023/24 academic year:
State funded primary schools with under 150 pupils will receive a grant payment of £800
State funded primary schools with more than 150 pupils will receive a grant payment of £200
State funded secondary schools and state funded 16 - 19 educational settings with under 600 pupils will receive a grant payment of £200