Instructional Coaching
What is instructional coaching?
Watch the Steplab video for a summary
On our Early Career Teachers programme , mentors use instructional coaching to support ECTs to use the theory they have learned from the self-study modules and develop their classroom expertise. But what is instructional coaching and why have we chosen to use it?
We've chosen to use instructional coaching on the Early Career Teachers programme because it has a really strong evidence base (Sims, S. 2019) for helping teachers make lasting improvements to their practice. In particular, it helps ECTs to overcome the 'knowing-doing gap' – the difference between learning a new technique and being able to use it regularly in their classroom.
Instructional coaching is a weekly cycle of observation, practice and feedback focused on incremental improvements. We also know that all of this is easier to integrate into teachers' busy working lives if you can build it into a regular routine, with each coaching session following a very similar format – this makes sticking to it easier.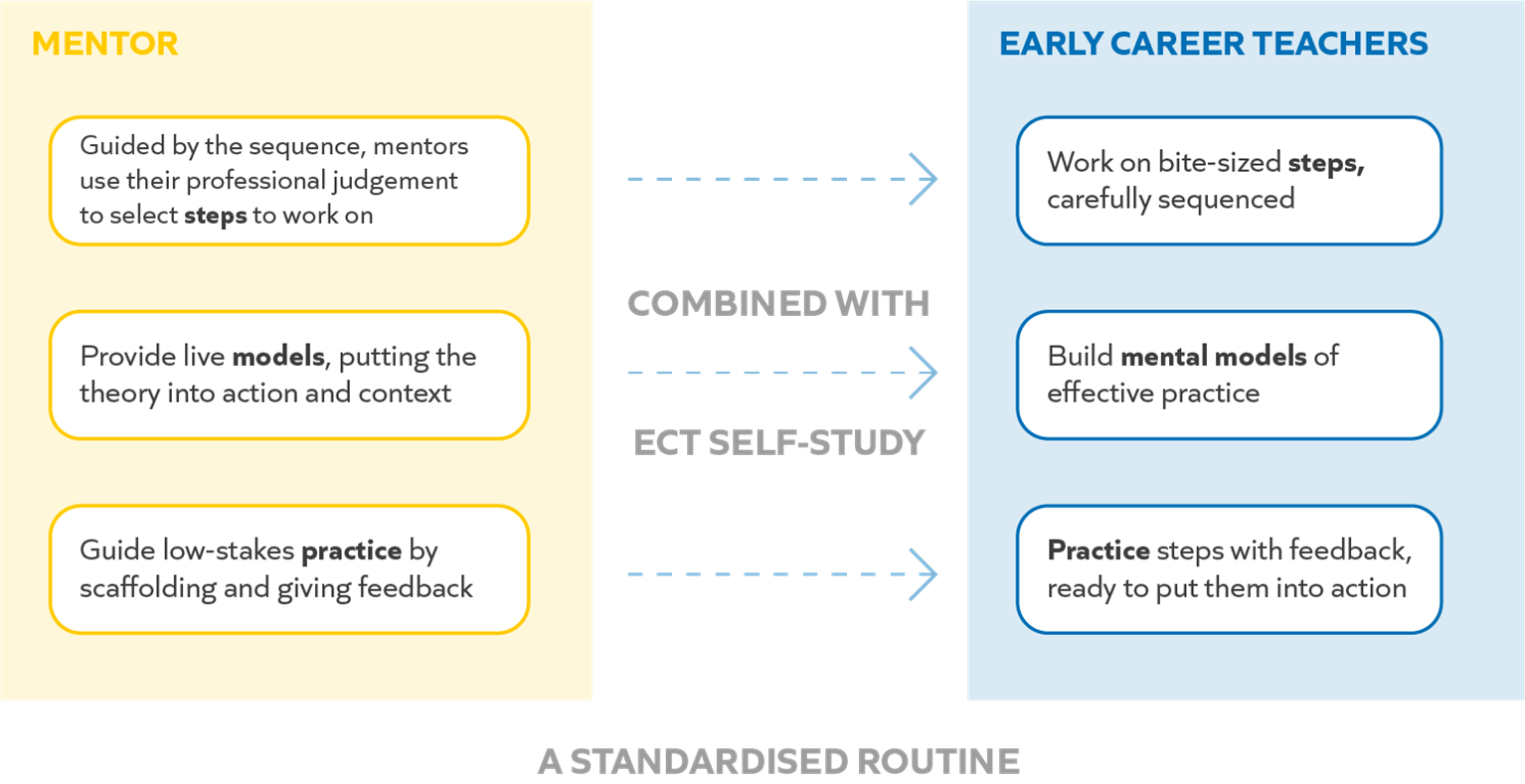 The role of a mentor is to scaffold the practice and provide precise, actionable feedback.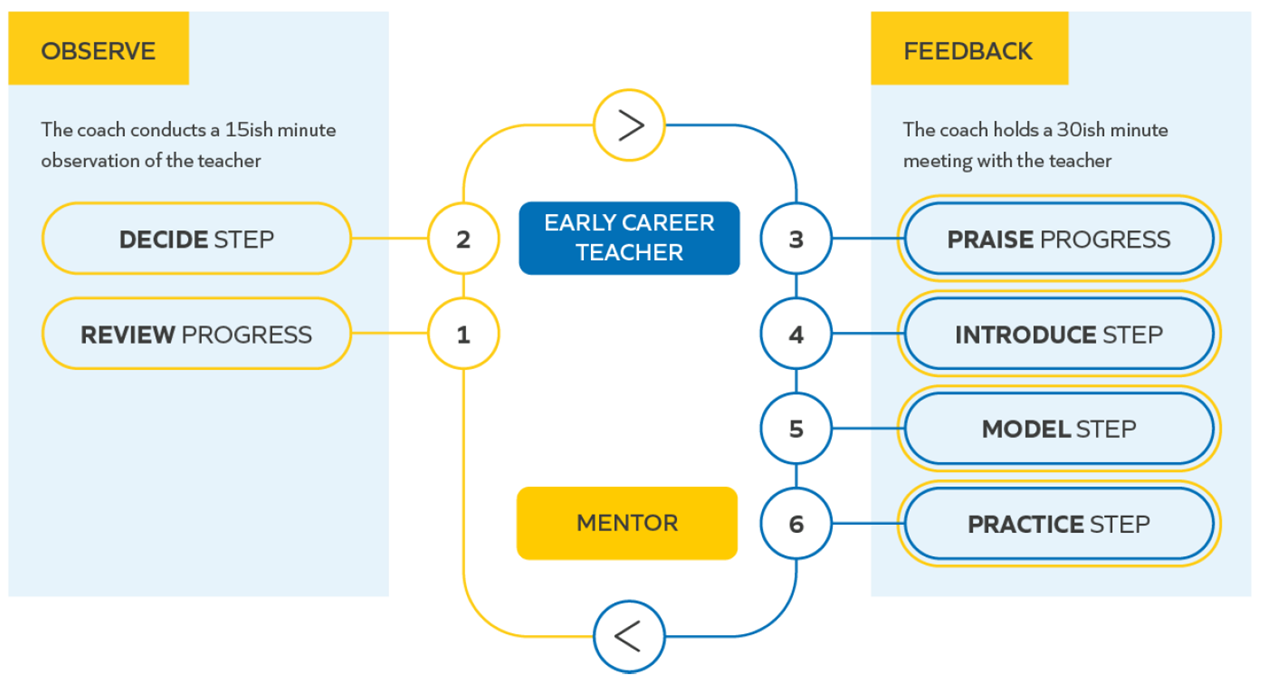 Observation
Each week the mentor observes the ECT teach for about 15 minutes. This helps them choose a single, bite-sized step to work on. For example, an ECT might have been working on giving clearly sequenced instructions; if the mentor feels they are ready to move on, they might decide the next step is to work on an effective strategy for monitoring whether pupils are following the instructions. Bite-sized steps are designed to help ECTs see the progress they are making on the journey towards mastering the craft of teaching.
Mentors choose steps which build on ECTs' prior knowledge from their self-study so far. This helps ECTs to apply the steps thoughtfully and not just mimic techniques. The self-study content is carefully sequenced to build in depth and complexity, giving ECTs firm foundations to build on and develop mastery.

Feedback
Each week, approximately 30 minutes of the mentor meeting is used for instructional coaching, specifically modelling, practice and feedback.
Mentors begin by providing one piece of targeted feedback and praise on the ECT's progress towards the previous step. Next, the mentor shares the new step and the mentor and ECT discuss why this has been selected and why it is likely to help pupils.
The mentor then models a demonstration of what the step would look like in the ECT's own context. The aim of the model is to help the ECT know exactly what a technique will look like in their own classroom. The model should build on the theory the ECT has previously learnt from their self-study. To continue the above example, the mentor might demonstrate how they would circulate to monitor pupils or how and where they would stand in the classroom.
Finally, the mentor and ECT work together to practise the step. Importantly the ECT will practise more than once, with the mentor providing feedback on how to improve each time. This cycle of feedback and practice focused on a precise step is often referred to as 'deliberate practice'. This practice helps overcome the 'knowing-doing gap' and set the ECT up to put the new step into action.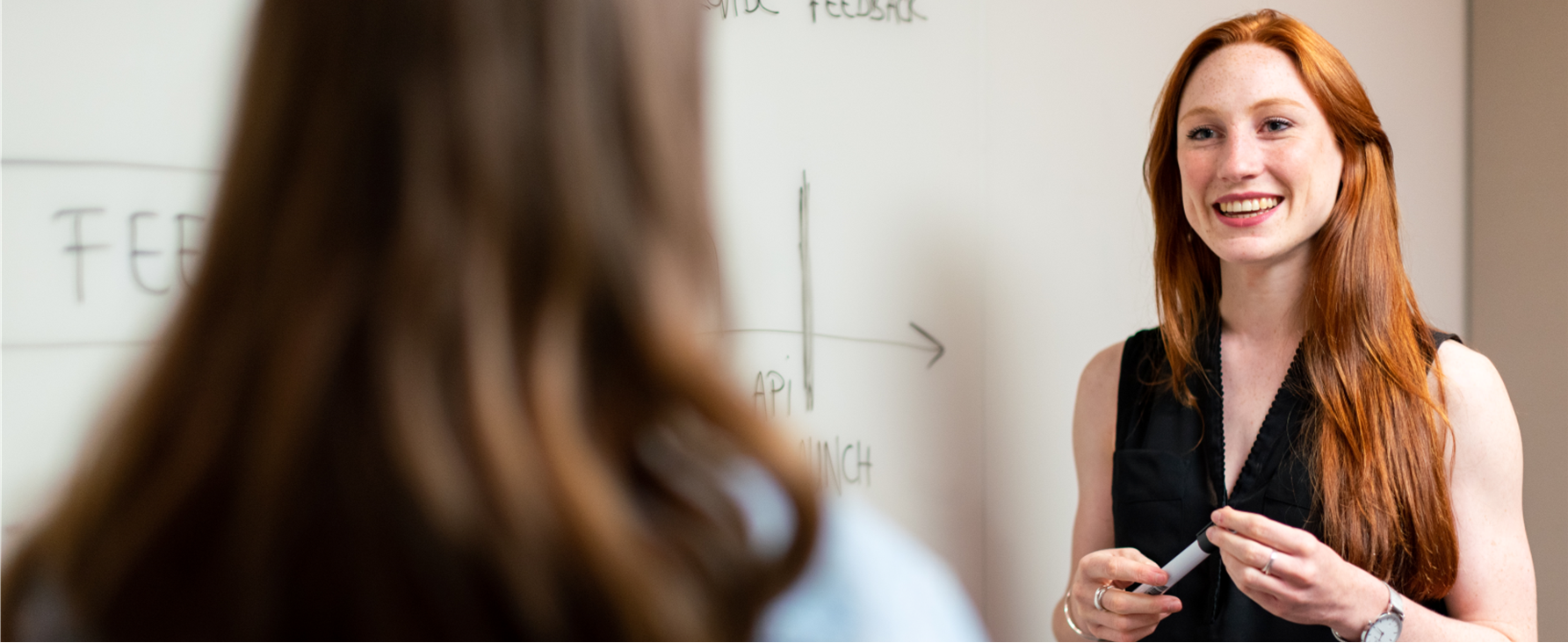 The impact of instructional coaching on Early Career Teachers
Instructional coaching is well suited to helping Early Career Teachers. It provides careful structure and guidance which can help accelerate teachers' development at the start of their career (Kraft and Blazar, 2018).
Deliberate practice of a precise step is a well-evidenced way of building expertise, in teaching and beyond (Grossman, 2009). Focusing on a bite-sized step that can be mastered in a week means that ECTs can also see tangible progress in their classrooms.
Similarities and differences between instructional coaching and other approaches
There are lots of similarities between instructional coaching and other mentoring or coaching approaches.
> Like other approaches, instructional coaching is still focused on helping ECTs improve their teaching practice to have the best possible impact on pupils.
> Like all mentoring and coaching, instructional coaching only works when it builds on a strong relationship between the mentor and the ECT. Ambition Institute's Early Career Teachers programme prioritises building and strengthening these relationships over time.
> ECTs' learning is more likely to stick and avoid misconceptions when it builds on prior knowledge. The carefully structured curriculum of ECT self-study helps ensure that this happens.
> Many mentoring and coaching approaches involve explaining new techniques and how they work – by using modelling, instructional coaching also places this at the forefront of its approach.
> Mentoring is not just about helping teachers get better, it's also about pastoral care and support. Instructional coaching is a significant element of Ambition Institute's Early Career Teachers programme, but it is not everything – it is important for mentors to take time for pastoral support as well.
Equally, some coaching and mentoring approaches take different approaches.
> Instructional coaching is centred around the mentor using their expertise and experience to support ECTs to develop. This means mentors provide explicit guidance rather than leaving ECTs to work out the answer themselves. This is because ECTs are at the beginning of their career, and this allows them to benefit from the mentor's wealth of knowledge.
> Over time, the ECT will be able to take more and more ownership of their learning, but at least at the start of the programme their mentor will decide the weekly focus. This is to scaffold and support ECTs' learning until they have developed greater expertise
> Self-reflection is an important element of all teachers' practice, but accurate reflection is difficult due to the messy feedback loops involved in teaching – it is hard for teachers to identify what to change in their classroom, much less whether a change is having the desired impact. This means that although ECTs will be supported to reflect on their practice, this reflection will not be what drives the weekly focus – at the beginning of their careers ECTs are more likely to make effective changes with careful guidance from their mentors.