ECT Programme Overview - Structure & Design
The Programme
The key aim of Ambition Institute's Early Career Teachers programme is to support teachers to build on their understanding of key learning around effective teaching, assessment and curriculum practices from their ITT year. The content of the programme is designed to incorporate all the statements included within the ECF, as well as complement the current teaching standards.
The Early Career Teachers programme is grounded in the best available evidence for how teachers learn. It is organised into three core strands, which cover all 8 areas of the Early Career Framework. The three strands are:
Behaviour

Using routines to support behaviour management.
Creating a positive learning environment.
Support with overcoming low-level disruption.

Instruction

Supporting pupils through instruction based strategies such as questioning, scaffolding and explicit teaching.
How to adapt teaching style to work for all pupils.
The importance that prior knowledge plays learning.
How to use feedback effectively.

Subject

Creating good habits of planning to support learning goals.
Strategies for examining and addressing the gaps and misconceptions pupils may have.
Considering how literacy can be developed across all subjects.
Each strand is intended to correspond roughly to a term, whilst allowing the programme to flex to meet the needs of individual schools, for example varying term lengths or exam periods.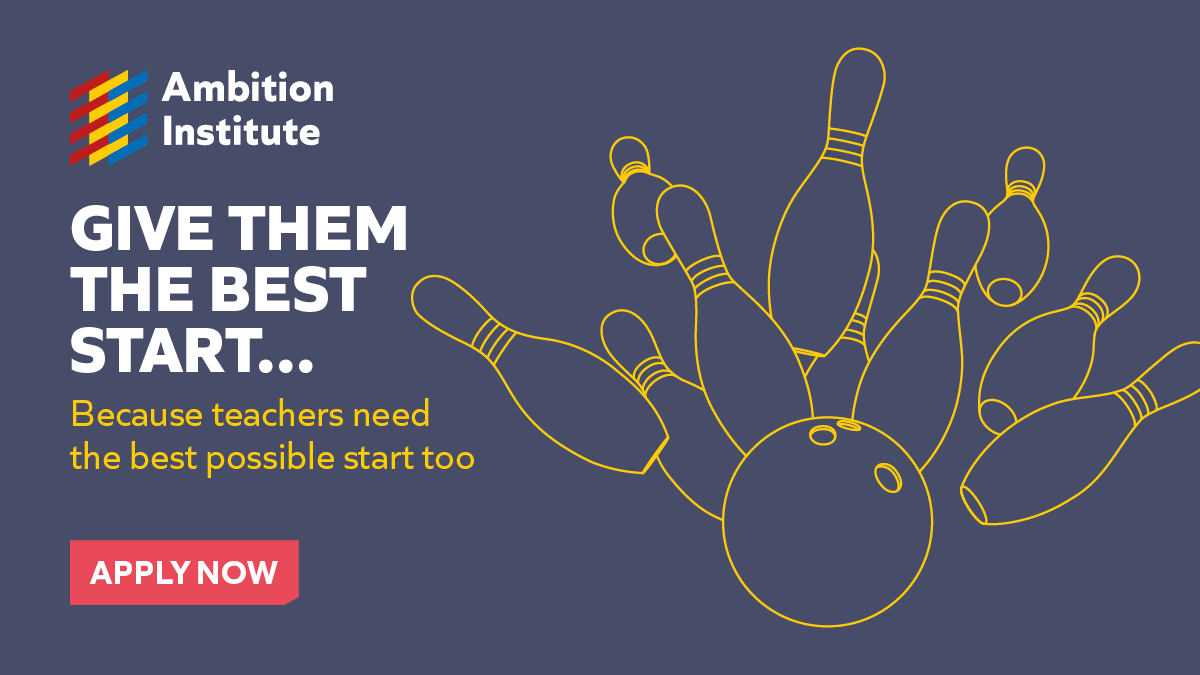 Structure
The programme covers the Early Career Framework through three termly strands of learning, with a core thread throughout. They are:
Behaviour
Instruction
Subject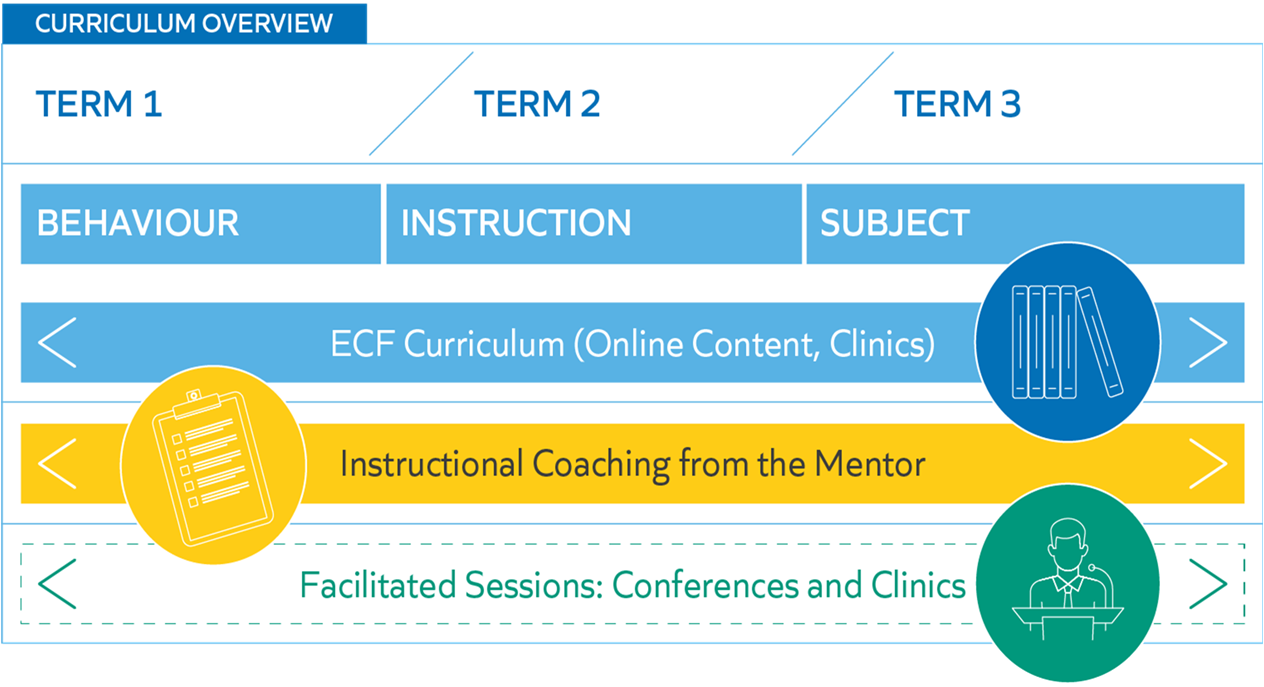 Programme components
The programme components have been designed to fit with the demands of schools and the busy lives of teachers. The course consists of:
3 full-day conferences (focused on deepening their understanding of how pupils learn, the principles of responsive teaching, and effective implementation).

6 one-hour virtual clinics to support early career teachers with strategies for classroom practice, based on their study materials and key areas from Early Career Framework.

Weekly modules of online learning. Self-study modules help early career teachers engage with the latest research and ideas for practical classroom implementation in a manageable and accessible way.

Weekly instructional coaching sessions designed to support early career teachers to apply insights from the study materials into their classroom practice. Mentors will provide teachers with a specific, bite-sized action step to practice each week that responds to their own classroom context and practice.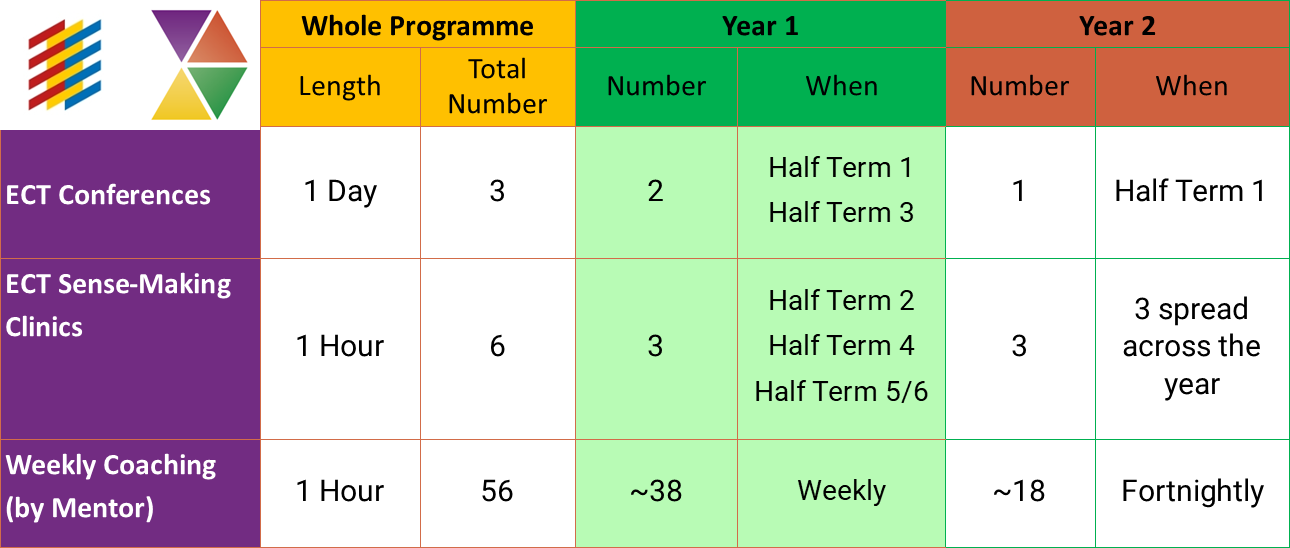 Typical Mentor/ECT week
Early Career Teachers
Each week, teachers will have to do two things to build their expertise:
Firstly, they will need to engage with the self-study content by watching the video, reading the evidence summary and completing a quiz. This is hosted on Steplab.
Secondly, they will take part in an instructional coaching session run by their mentor.
The module focuses in to a specific area from an initially wide view.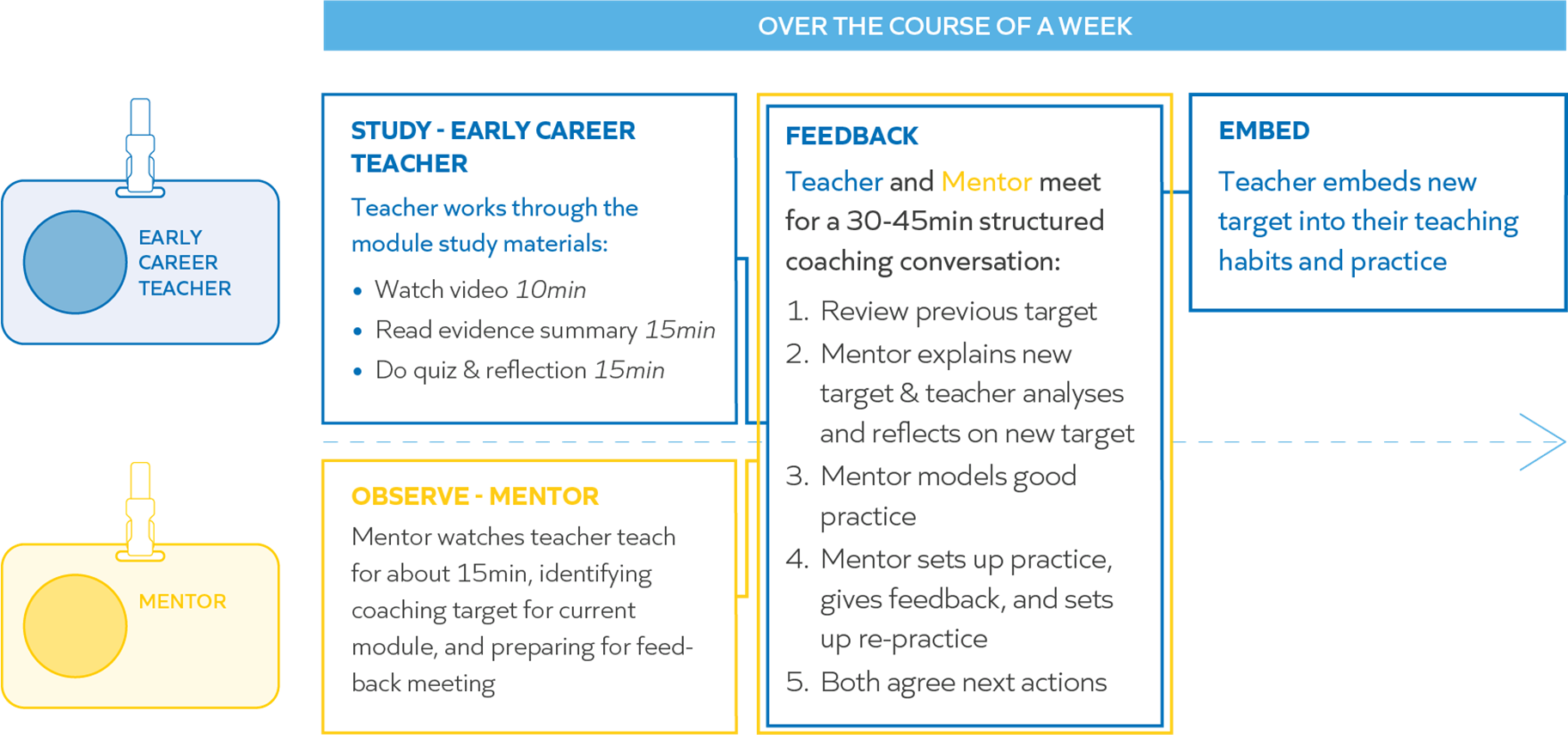 Mentors
Similarly, mentors have two things to do each week to support teachers with this.
Firstly, Mentors need to watch a short, approximately 10-15 minute segment of one of their ECT's lessons. This is used to review how the ECT is progressing in the area they are currently focused on, such as managing low-level disruption. The mentor will look at whether the ECT is ready to move on from their last step such as using non-verbal reminders, and if they are, what a useful next step would be. Steplab will scaffold mentors to do this.
Secondly, mentors will meet with their ECTs for at least 45 minutes each week. The main focus, for around 30 minutes will be running an instructional coaching session.
This will be where they share feedback on the ECT's last step, and provide a modelled demonstration with the chance to practise the next step. Again, this will be scaffolded by Steplab.
The remainder of the meeting time can be used for other aspects of mentoring such as pastoral support or learning to use school systems.
We expect schools to provide mentors with an hour of time each week to carry out the role. This is likely to be through a reduction in timetabled teaching, but could be through equivalent means. We know that, due to the importance of the role, many schools will choose to provide mentors with more time.
Programme Design
Evidence informed

The Early Career Teachers Programme for both mentors and ECTs has been built on evidence of how people learn new knowledge and skills and apply this to their practice. This evidence has informed principles underpinning the programme:


> Key learning broken down into small, manageable chunks – each week, teachers will work on a bite-sized aspect of their teaching with their mentor, such as how they ask effective questions.


> Clear modelling of effective practice – mentors model what the bite size aspect (known as a step) looks like before the teacher practises applying the step themselves.


> Multiple opportunities to return to key learning – for example, teachers begin to learn about giving clear instructions during modules on routines and managing behaviour, returning to similar ideas when thinking about how to break down content as part of teacher modelling.


> Practice and feedback -within the instructional coaching session, teachers deliberately practise and receive formative feedback on a bite sized aspect of their teaching so that they have had an opportunity to practise the step.


> Contextualised- the mentor contextualises the learning which the teacher engages with during their weekly study, so that the teacher is better able to see how the learning applies to their own practice.


> Familiar routines-each week - teachers engage in weekly self-study and the weekly (fortnightly in year 2) instructional coaching also helps ensure that both mentors and teachers getting into the routine of engaging in their professional development on the programme.

Context specific

We know that whilst there are similarities in how the majority of pupils learn and how schools are structured, every school and each phase and subject is different. This means that teaching expertise is context specific, and it is mentors who know their context best. While the content within the programme provides a range of phase and subject specific exemplification, mentors are still best placed to contextualise the evidence-informed content from the Early Career Framework and the materials on Ambition Institute's programme to fit each ECT's setting, phase and subject(s).
Cost
The Early Career Teachers programme is free to schools. It is fully funded by the Department for Education.
The Early Career Framework and the opportunities it provides to new teachers is a game changer for the sector. We're really excited to be part of the team delivering this new entitlement for Early Career Teachers and their mentors." Marie Hamer, Design and Teaching, Executive Director Learning, Ambition Institute
http://docs.google.com/forms/d/e/1FAIpQLScKFj5KJGvFZyQHz9HuvQwKoaakx2VyYmbPQJF9joQemV79ig/viewform